WaterView
Realtime Reporting Dashboard and Data Analytics Suite

WaterView is primarily comprised of a customer-facing and an internal management-facing analytics dashboard.
The customer dashboard is a secure web-based portal where operators can log in to visualize their project's data and glean analytical insight into water operations. The standard portal displays relevant information from the job site. In the near future, the dashboard will not only automate water transfer daily reports but will also give the end user additional flexibility to query and export real-time and historical reporting data.
Request a Quote
Visualizations available in Release V1.2:
Total available water on site
Individual tank drill-down view
Tank level trending
Flow rates
Pressure readings at pumps
Line & ambient temperature
Pump status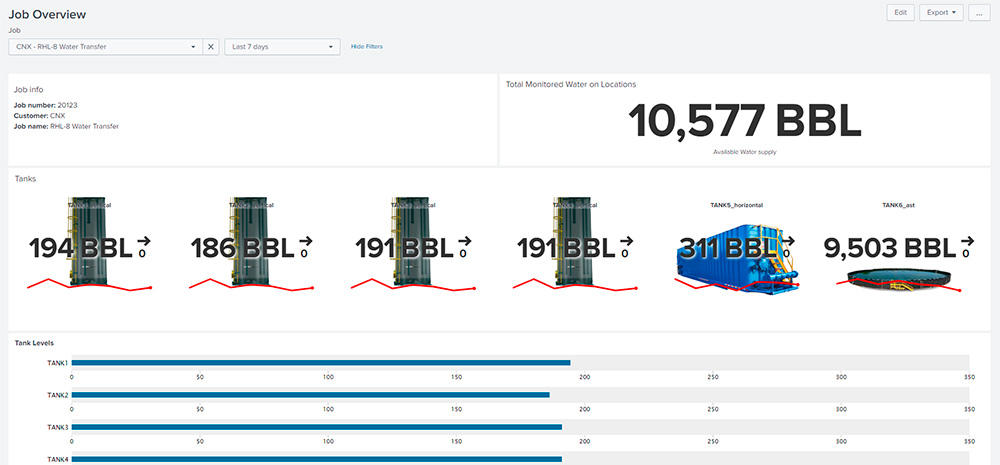 Coming Soon...
Machine Learning capabilities for predictive maintenance on automated pumps, valves, sensors, and equipment.
Leveraging the latest technology in machine learning, WaterForce's internal management-facing dashboard will soon be equipped with predictive maintenance and device health monitoring for its automated systems, enabling Keystone operators, managers, and mechanics with meaningful information to predict tank level trends and flow trends as well as component failure in order to prevent customer downtime and reduce equipment failure risk.